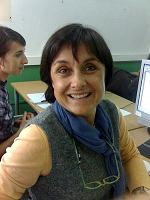 x

Hi
My name's Carmen.

I live in Catalonia since 1963, but I was born in

El Saucejo (Sevilla). I' m 51 years old. I live with my husband

and my son, they are 55 and 26 years old, their names Peter and Paul.
I'm

going to tell you about myself. I'm short, my hair

and my eyes are brown. I wear glasses for reading.
I'm a very talkative
person, and I think I am a sensible person.
In my free time I like walking.
See you
Carmen