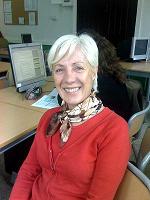 x
My name is Leonor I'm Catalan and I live in St. Boi de Llobregat near Barcelona.
I'm a nurse and I'm working in a health centre, I like my job
In my free time I used to go to the beach or the mountain .
I like the cinema and the theatre and going out with my friends to have dinner.
I don't have much free time because I work long time and I have a lot of work at home.
I like to travel, last summer I went to Finland and Estonia and next summer I'm going to go to Egypt .
I'm learning English I go to the English classes every Thursday.
I'm going to write another day.
Leonor