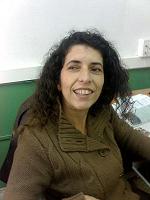 x
Hello, my name is Anna. I'm Spanish. I'm forty years old. I live in Sant Boi with my family, my husband and my children, my daughter, Sara and my son, Daniel. My children are young. Sara is seven years old and Daniel is four years old. My husband works in an electronic world. I don't work now but I am a hairdresser. Now, I studying English and computer science. My classes of English are very funny and my classes of Computer are fantastic.
I have long, brown and curly hair. My eyes are brown too. I am not very tall.
I'm a serious person, but I like laugh. My friends say I like talking very much. I like to be joking and meet many different people.
I have many hobbies. I like walking in the mountain, listening to music, going to the cinema or to the theatre.